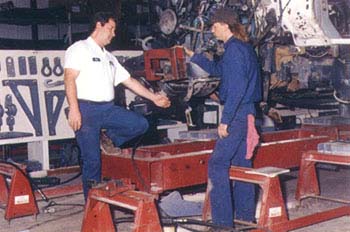 OVER 100 YEARS OF SERVICE TRADITION
Our dedication to service spans the entire history of the company. Top notch equipment and parts require skilled operators and installers. All of our technicians are ASE certified in their area of expertise, brakes, suspension, or front end. Our Milan Service Manager, Ron Stone, has been trained by top frame corrections and alignment experts, including Beeline Frame and Alignment School.
At Mutual Wheel we have been helping our customers to perfect their technical skills for over 100 years. We can help you take advantage of factory training from names like Meritor, Bendix, and Dayton Parts, or we can provide you with in house training. The experts at Mutual Wheel are never too busy to talk with you about problems with your vehicle.