The following is a history of Mutual Wheel Company
published in 1993 for our 100 year anniversary.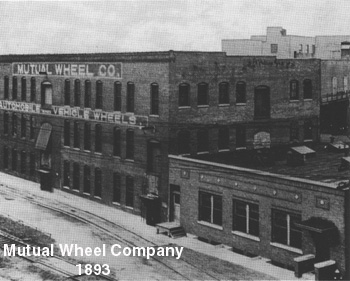 The lights seemed a little dim, you could see the cigar smoke hanging in the air. Their trench coats and hats had been tossed to the side. Their sleeves rolled up. A company was about to be born.
Eleven Quad City area carriage manufacturers gathered to begin plans to manufacture their own wooden-spoked carriage wheels. They had decided to declare all-out war against the American Wheel Trust which had controlled wheel production and prices long enough.
A stranger appeared at the door wishing to be admitted to the meeting. He said he represented a Watertown, N.Y., manufacturer who wished to become a member of the Mutual Wheel Co. A gentleman at the door happened to notice that the stranger's business card had been freshly printed. In fact, it was hot off the presses in Rock Island. The stranger was really a spy for the American Wheel Trust, whose members had tried in many ways to keep the Mutual Wheel Company from forming.
But the Trust was unsuccessful. And in 1893, the same year Henry Ford built his first automobile, the Mutual Wheel Company was born at 729 Third Avenue in Moline. With a $40,000 investment, the carriage manufacturers joined forces with a goal to produce 30,000 sets of wheels per year. Initially, the company supplied wheels for the Sechler Carriage Co., Velie Carriage Co., Moline Wagon Works, and Rosenfield Wagon Co. Mutual Wheel's first general manager and operating officer was George McMaster.
The company's early history can also be tied to a sometime forgotten, but fascinating period in Moline's history, when the Quad City area earned the nickname, "Little Detroit". Nineteen models of motor vehicles were built in the Quad Cities prior to 1930, and Mutual Wheel Company made wooden wheels for many of them.
By 1900, Mutual Wheel Company employed 500 to 600 people, and its advertising proclaimed that the company was the largest manufacturer of vehicle wheels in the world, producing 100,000 sets annually. In addition to its Moline factory, Mutual Wheel Company had several branch stock plants in the timber districts of the south, and employed a large number of timber buyers who were responsible for locating the several million feet of good hickory timber which the company used annually. According to the Historical Encyclopedia of Illinois and History of Rock Island County, Mutual Wheel Company built up an enviable reputation among western manufacturers because of the high grade of wheel produced.
A great personal tragedy, the death of the company's first general manager was just the first of many challenges that would begin to shape the course of this young company's future.
The decade of the 1930s brought a tremendous amount of change to highway transportation. In 1927 the first steel wheels for automobiles were manufactured. The diminished demand for wooden wheels and the financial crisis of The Great Depression had their impact on Mutual Wheel Co. It was a time of reflection, and it was a time that the company's sales volume and number of employees dropped to its lowest ever.
In 1932, Mutual Wheel ceased production of wooden wheels, and a transition began which would take the company from a manufacturing mode to an automotive and truck parts distribution center with drive-in service. This was the direction brought to the company by Elmer Engstrom, who had joined the company as a timekeeper in 1917. In 1940, when he was general manager, Engstrom purchased the company in partnership with George Wood.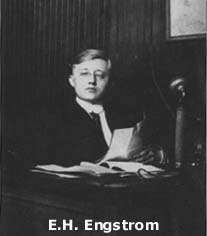 The war years and increases in military spending had a positive effect on Mutual Wheel Company's business. The Rock Island Arsenal was a good customer for the brake, wheel, and axle lines the company distributed.
Although W.W.II brought shortages and rationing, Mutual Wheel Company, because it served the truck transportation industry and the Rock Island Arsenal, was able to get parts and materials through a priority system of the U.S. Government.
Sales increased through the war years, which were followed by a strong economy and growth of the truck transportation industry.
In 1948, Elmer Engstrom purchased George Wood's shares in Mutual Wheel Co. and became the sole owner of the enterprise, along with his wife, Helen. Mutual Wheel, which began as a corporation had now become a family-owned business, a tradition that continues today. When Elmer died three years later, he left the company to Helen, who became active in the business, along with their son, Donald, and his wife, June. Donald had joined the firm in 1949, while June became active in the firm in 1951.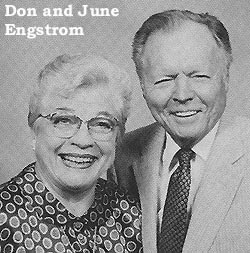 It was during the 1950s that Mutual Wheel Company became a strong force in the wholesale distribution of wheels, truck equipment, and power brakes, and developed a complete service garage for brake service on cars, trucks, and trailers.
A new facility, which was erected at 2345 4th Ave. in Moline in 1950, continued to grow. In 1955, three new service stalls were added. Five years later, office space was expanded. In 1967, a 5,000-square-foot warehouse was built across the street, and a few years later, in 1970, another 16,000-square-foot addition appeared.
During the fifties and over the next several decades, Mutual Wheel began expanding into other markets, beginning in 1954 with a branch in Monmouth, Illinois. This was followed by growth into the Dubuque, IA. market in 1966, East Peoria, IL., in 1973, and Milan, IL., in 1977.
In 1968, the company partnership was changed to a family corporation. When Helen Engstrom died in 1970, her shares were left to Donald and June, continuing the family business orientation.
In 1980, the company changed to a central warehouse concept. The Moline central warehouse, which has been expanded to 50,000 sq. ft., provides branch locations with needed parts through shipments via company truck twice weekly. Mutual Wheel Company prides itself on being able to provide same-day or next-day service when necessary. Moline is also the site of the company's remanufacturing and machine shop facilities.
Branches in Dubuque, Milan, and Monmouth have drive-in service operations and provide specialized maintenance and repair service in addition to parts.
In 1989, when Donald Engstrom decided to retire, the family was faced with the dilemma of determining the next president of the company. They created a unique joint leadership, called "Office of the President", which is shared by their three sons, Dave, Rich, and Bob, who joined the company after college.
Each son has specific responsibilities within the organization. Dave, who joined the company in 1979, handles sales. Rich, oversees purchasing, and Bob, manages the administrative end of the business, joined the family business in 1981. All three are dedicated to providing the same kind of service on which the company has built its reputation.
Today, Mutual Wheel Company has nine locations all within a 150-mile radius of the central warehouse in Moline. In addition to sites mentioned earlier, the company has branches in Bloomington, Rockford, Cedar Rapids, and Waterloo. The company employs over 75 people, including 13 sales people who are charged with maintaining contact with fleet companies.
Throughout the years, Mutual Wheel Company has been able to take care of its customers by knowing their needs and having the right parts for them at the right time. Mutual Wheel represents over 90 leading truck and trailer parts manufacturers.
In addition to providing quality parts and service, the Engstroms also attribute their success to securing quality sites and facilities for their branch locations. And most important, they are grateful for a long line of experienced, dedicated, and loyal employees.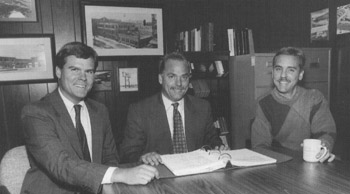 Bob, Dave, and Rich Engstrom