SPRING SHOP
We specialize in spring repair service in our custom spring departments. Leafs can be replaced or added to almost any spring. We can re-arch leafs on multi-leaf springs and rebush walking beams and suspension beams of all types. U-Bolts of all sizes can be formed with our U-bolt benders, from 1/2" to 1" diameter rod while you wait. We stock a complete line of new springs - replacement leaves - shackles - pins - bushings - hangers - for trucks and trailers of all sizes and types.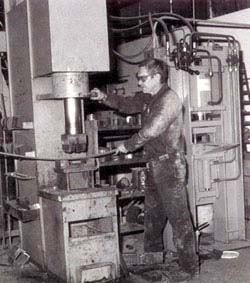 Arching a spring leaf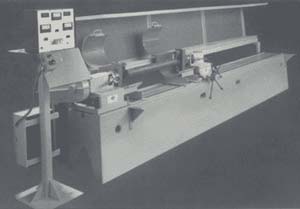 Our high speed balancer
AUTHORIZED ROCKWELL DRIVELINE REMANUFACTURING SYSTEM
If you've been living with unusual vibrations while operating your rig, it's time you checked out our Driveline Remanufacturing System by Rockwell. This system features precision machine tools to repair or completely rebuild your driveline.
Unlike other systems, we can balance at speeds up to 3,600 RPM, far in excess of normal driveline operating speeds. This high-speed capability assures that your driveline will be balanced at operating RPM and that even the smallest imbalance will be detected. And, the finished driveshaft will be within factory tolerances.
INDUSTRIAL FRICTION &BRAKE BONDING
We offer a unique service to the region in bonded brake linings. (This precise procedure is accomplished through a pressurized, high temperature cure done in our Bayco oven.) Types processed include brake shoes, clutches, brake bands, and disc pads used on many industrial and transportation applications. Manufacturing factories, quarries, and on and off highway fleets use this highly specialized service.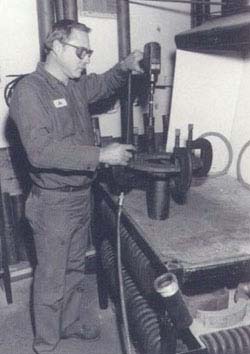 Preparing a clutch for bonding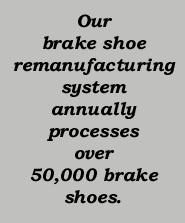 Along with our bonding service, we maintain our own relining facilities for riveted brake shoes to assure you of optimum quality in all Top Performance relined brake shoes. Continual testing and inspection through our entire relining process makes Top Performance relined brake shoes your best value for dependability, safety, and lower cost per mile.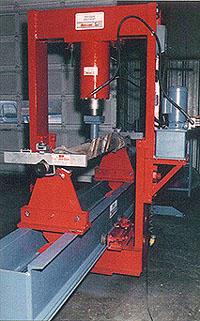 Straightening a Trailer axle
150 TON HYDRAULIC PRESS SERVICE
With our 150 ton Beeline Axle Press, we are able to straighten front axle I-beams and trailer axles of all sizes. Our 150 ton press also straightens rear axle housings, beams, long cylinders and pistons, shafts of all sizes, forklift arms, and snowplow bulkheads. Gears can be pressed on and off shafts.